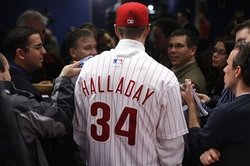 If you're snowed in like me, or just
have a few minutes to kill before football dominates the day, I
recommend reading Andy Martino's excellent piece from the Philadelphia
Inquirer recounting Phillies general manager Ruben Amaro's pursuit of ace Roy Halladay.



Of course, the Phillies tried for
Roy Halladay in July, but the talks were rekindled with one simple
conversation at the November GM meetings in Chicago, when Amaro and his lieutenants approached new general manager Alex Anthopoulos
waiting for an elevator at the O'Hare Hilton.

"I want to ask you something," Amaro said, according to Anthopoulos.

The two walked down a hallway and chatted about Halladay.

Amaro was direct and aggressive. "What's your asking price?" he
said, before offering Anthopoulos a few days to think about his answer
and get back to the Phillies. 

But the Toronto GM did not need any time; he remembered the player he'd been most impressed with in July.

"We like Drabek," he said.
Martino touches on all aspects of
the trade, including the failed attempt to deal Joe Blanton and the
subsequent decision to trade Cliff Lee, the almost-trade of Phillippe
Aumont and Tyson Gillies to the Blue Jays and the madness of the
"flunked physical" that wasn't. It's a fascinating piece, not just
because of the complexity of the trade, but Amaro's overt determination
to have Halladay in Philadelphia at any cost, even if it meant dealing
away a postseason hero.