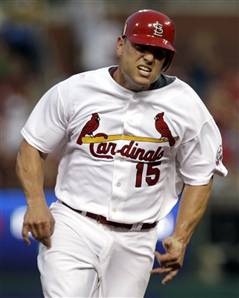 Bernie Miklasz of the St. Louis Post-Dispatch writes that Matt Holliday should learn a lesson from Johnny Damon's negotiations with the Yankees:



As this drags on, we can only wonder if or when the Cardinals will
withdraw from the Holliday auction and redirect their money to other
players. Will Holliday lose out in St. Louis because of the same
negotiating tactics that pushed the Yankees away from Damon?



…It's been reported that Holliday wants to stay in St. Louis. If that's
the case, then when does he plan to take ownership of his career?



While Damon and Holliday share the
same agent, I see the two situations differently. The Yankees
were uncomfortable handing out a lucrative multi-year contract to a player who just
turned 36, while Holliday, the best player available this winter, doesn't even turn 30 until January. As Albert Pujols weighs a contract extension, GM John Mozeliak needs this deal to get done. The Yankees didn't.
On a
related note, this morning Buster Olney of ESPN.com wrote that Damon would be a perfect fit for the Cardinals.