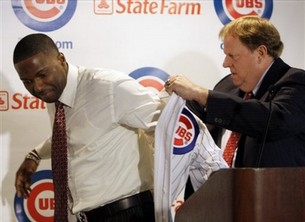 The Cubs finally got off their collective butts on Friday by pulling the trigger on the Milton Bradley-Carlos Silva deal and closing in on an agreement with Marlon Byrd, but let's face it, they were better off when they were doing nothing. The offseason's proceedings have only made it increasingly clear that Jim Hendry is not the right person to run this team.
It's not so much Hendry's eye for talent that's the problem. He's a perfectly average deal-maker, and he's come up with a few gems for the Cubs. He might actually be better off with a small-market team, since it's when he has money to spend that he really gets himself in trouble.
But Hendry isn't the man to lead a rebuilding effort. He simply lacks imagination. Hendry's M.O. is to focus one problem at a time and apply all of the available resources to fixing it. Everyone in the whole league knew that Hendry's first priority this winter was to upgrade in center field, but that he'd only do it after trading Bradley. Because if he went out and signed Mike Cameron before Bradley was disposed of, he'd have lost all of his leverage and had to settle for someone like Silva in return.
Oh… wait….
So, now Bradley is gone, but so are Curtis Granderson and Cameron. That leaves Byrd, a 32-year-old who is average at best in center field and whose recent success offensively is largely a product of playing in Texas. He's posted OPSs of 814, 842 and 808 the last three years, but his road OPSs those years were 715, 773 and 740. An Alfonso Soriano-Byrd-Kosuke Fukudome outfield is going to be an awful lot more expensive than it will be productive.
And the scary thing is that Byrd's addition might be the biggest of the winter for one of 2009's most disappointing teams. Hendry's other two moves were to re-sign John Grabow to a contract that only Ed Wade would love and to decline to offer arbitration to Rich Harden, costing the team a supplemental first-round pick in next year's draft. The Cubs may add another starter at some point, but it's doubtful they'll be major players in what's left in free agency or in the trade market. This may very well be the team the Cubs will take into 2010, and as a result, both the Cardinals and Brewers should be feeling pretty good right now.