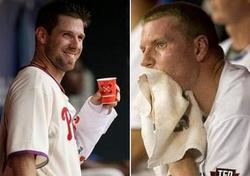 Cliff Lee thought he'd spend the rest of his baseball playing life in Philadelphia, saying "[a]t first I didn't believe it. I thought we were working
out an extension with the Phillies. I thought I would spend the rest of
my career there."  Ruben Amaro had other ideas, obviously, and it sounds like he was scared off by Lee's demands with respect to an extension:
"We made what we thought was a pretty substantial offer. We had some
preliminary discussions, but other than that . . . it was amicable. Like
I said before, I just didn't feel comfortable that we were going to be
able to get to the finish line. And so we ended up moving toward the
Halladay situation."
If Lee's desire to stay in Philly was a deep one, you have to wonder if his agent didn't come on a little too strong in the opening rounds of negotiation. I mean, I think if the Phils are only going to go with one of the two aces they chose the right one — Halladay is simply better than Lee — but in light of how quickly the team pulled the plug on Lee, it's not hard to picture a situation in which Lee's representation made it really easy by leading with an overly-stiff offer.