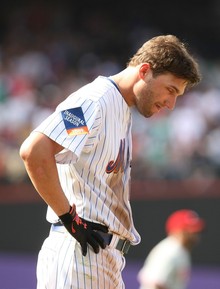 Matthew Cerrone has a fine interview with sabermetric whipping boy Jeff Francoeur over on Metsblog.com, where you can watch the video or read the text. I'll just post the first question and response, since it was the one most interesting to me:
Cerrone: Yesterday, you did a chat with MLB.com, and, on it you were asked a question to compare On-Base-Percentage guys to RBI guys, and you said one does one thing, one does the other. But, it seems to me you would want to both. What is the difference there, and what did you mean by that?
Francoeur: Well, I think you obviously want to go both. But, you look at a guy that I played with in Atlanta this year, Garret Anderson, who's had a heck of a career and his OBP isn't that great. I think you learn as you go, I'm still 25 and I'm learning different things, learning the strike zone and hopefully I will continue to get better at that; but, at the same time, I'm not going up there thinking to walk, thinking about this or that, if there is a guy on second or third I'm gonna try to drive him in – that's my first priority. Whether I ground out or fly out or whatever, I want to get him and do my best to help the team. I think as you learn more you're OBP goes up; but, I think for me, that's not something I just think about. I know to a lot of statistical people OBP seems to be a huge thing… 15 to 20 years ago it wasn't a big deal… and all of a sudden it is.
A big part of what's made Francoeur a favored target of so many is that he seems to think he doesn't need to improve, or at least, he comes off that way in interviews. Of course, part of the problem there is that he's gotten an awful lot of publicity for someone with a .271 average and 88 homers in 4 1/2 seasons as a major leaguer.
Another issue is that there really wasn't any need for him to improve initially. He was treated like a star from the day he came up, and the Braves weren't worrying about the ugly strikeout-to-walk ratio as long as he produced 100-RBI seasons. Furthermore, he was going to get paid strictly based on his Triple Crown line during his first six years as a major leaguer. OBP hardly matters in arbitration.
In the long run, it might well be for the best that he was such a huge liability in 2008 and the first half of 2009 that the Braves gave up on him. Francoeur is blessed with plenty of talent. He hit 29 homers as a 22-year-old in 2006 and he batted .293 with a decent enough .338 OBP in 2007. But he's not going to find a lot of demand for his services if he heads into free agency as a .270-20 HR guy with a .310 OBP.
So, reality is catching up to him. In July, Francoeur was traded for an outfielder his original team never really wanted in the first place (and who has already been non-tendered). He had a fine second half for the Mets, yet there's been no indication that he's going to get the long-term deal from the Mets that he'd like. If he goes to arbitration, the Mets can portray him as a corner outfielder with middling power, a middling average, a terrible OBP for a corner outfielder and no value on the basepaths.
And Francoeur needs to hear it if he's going to truly turn his career around.