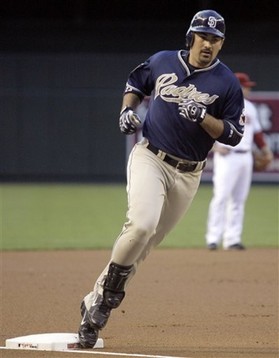 We've been playing this game for nearly six months now: some team is talking to the Padres about Adrian Gonzalez — usually the Red Sox — and then the report goes on to state, in some similar but perhaps not identical fashion, "yet the Padres have no reason to trade their first baseman."
But they do. There are two very good reasons for the Padres to trade Gonzalez, even though he's ridiculously affordable at $10.25 million for the next two years.
Reason No. 1: The Padres aren't going to the World Series during the next two years.
There's quite a bit to like about the group the Padres are putting together. The bullpen should be excellent once again, and a rotation comprised of a healthy Chris Young, Kevin Correia, Mat Latos, Clayton Richard, Sean Gallagher could keep the team in a lot of games. The offense, though, is still a huge problem. Besides Gonzalez, there isn't a position player in the organization sure to be an above average regular, and the Padres will likely be below average at all four up-the-middle spots unless someone new is brought in. I could see the pitching keeping the Padres in the race for a time next year, but they're not going to be there in the end. The 2011 outlook wouldn't be much better, barring the addition of a couple of more bats.
Reason No. 2: Kyle Blanks should never play the outfield again.
In need of some offense, the Padres tried shifting the 6-foot-6, 285-pound Blanks to the outfield last season. He came up and delivered 10 homers in just 148 at-bats, but he simply wasn't adequate in Petco's spacious corners and he got hurt while trying to cover all of that ground. A torn plantar fascia in his right foot ended his season in late August.
Besides Gonzalez, Blanks is likely the best hitter in the Padres organization. Yet much of what he would provide in the batter's box would be given away if the Padres continued to use him in the outfield. Worse, the team would be inviting more injuries. He belongs at first base.
*****
Now, I'm not saying the Padres need to trade Gonzalez right away. Blanks just turned 23 in September, and it wouldn't hurt him to spend another three or four months in Triple-A. Gonzalez, though, probably has as much trade value right now as he'll ever have, and there's been nothing to suggest that the Padres have a realistic chance of signing him for the long-term. If the right offer comes along, the Padres can't be afraid to pull the trigger.