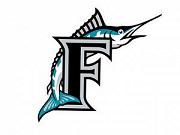 On Tuesday, Miami-Dade County approved proposals for $5.3 million in public art projects for the Marlins new ballpark.  They rejected my Jeff Conine fresco — apparently they didn't believe me when I told them that the nudity would be tasteful — but they did approve some jumping fish contraption:
It's still conceptual and difficult to describe, but it's something
like an arcade game decorated with pelicans and seagulls, blue sky and
clouds with a series of marlins that will actually jump after a Marlins
player hits a home run.
If by "like an arcade game" they mean "like that scene at the end of the Sesame Street cartoon where the pinball travels all over during the "one-two-three-FOUR-five-six-seven-eight-NINE-ten-eleven-tweeeeeeeelve" song, than I understand. Here's the video. Judge for yourself.
I actually kind of like it. I mean, it's no Big Apple and no drunken, lederhosen-wearing mustachioed mascot sliding into a giant mug of beer, but it's got something going for it. Beats fireworks anyway.
(thanks to Pete Toms for the link)