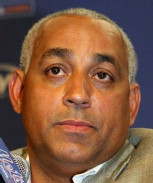 That's what the New York Post's Mike Vaccaro calls Jason Bay as he warns the Mets away from taking the plunge into what he calls the second tier of the free agent market:
And that brings me around to this point: How many times do you need to
have anvils fall on your head before you take a step out of the way?
Which is to say, how many times do you have to sign Kevin Appier and
Bobby Bonilla before you recognize the difference between attracting
the cream of a good free-agent class (see Sabathia, CC, and Teixeira, Mark) and the prettiest homecoming queens of Homely High? And that's what the Mets would be doing here.
Vaccaro is not the arbiter of all that is wise, but I am unaware of a single pundit or fan who has come out in favor of the Mets signing Bay to the five-year deal he wants.  And they may still not do it. John Harper of the Daily News notes this morning that the Mets are trying to hold the line at four years and not bid against themselves.
Of course it is Omar Minaya we're talking about, and he doesn't do a lot to instill confidence. To that end Harper has the line of the day, saying that the Mets have "apparently determined not to be bluffed into overpaying any more than necessary for the free-agent left fielder."
Read that quote again if the humor of it escaped you the first time.