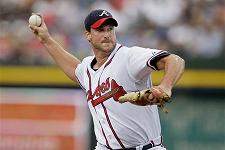 Derek Lowe, on the fact that the Braves are shopping him:
"I take it kind of personal," Lowe said. "Nobody made them give me a
four-year, $60 million contract. There wasn't a ransom or anybody
holding a gun to their heads. It was a negotiation and that's what they
viewed as fair. I would have never even considered going there if I
knew that ultimately this was going to happen."
No one was holding a gun to your head to accept such a large deal without a no-trade clause either, Derek.
And what does the fairness, or lack thereof, of your deal have to do with anything? This is a numbers game, but the number is not $45 million. It's six. As in the number of starting pitchers the Braves have right now. The next most significant number is 5.59, as in your ERA in your final 21 starts last year, which makes you expendable. If you wanted to stay in Atlanta, you should have pitched better.
Derek Lowe has been in the majors for thirteen years. He should know how it works by now. Being traded is always a risk, even after signing a big deal. He shouldn't take this sort of thing so personally.