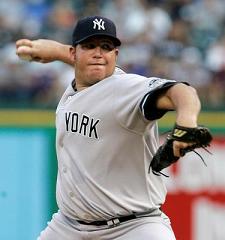 There are few players I find more loathsome than Sidney Ponson. He's really the worst of all worlds as a pitcher and a human being. If you're going to be a drunk, at least be an amiable one. If you're going to be a jackass, don't be a drunk. No matter what you do, at least try to care about your job and your appearance and stuff. Ponson has failed on each of these metrics throughout his career, and it drives me nuts. I mean sure, not everyone can be an all-star, but at least everyone can have a little pride, ya know?
Which makes me happy to see Ponson getting the honor he deserves: the anti-Cy Young Award for the 2000s, as bestowed by ESPN's Jerry Crasnick:
The people closest to Ponson have always characterized him as more of a wayward rogue than a bad person at heart. Because of his immense talent, he grew accustomed to finding a new opportunity around every corner.

"If teams keep calling my agent, then I have a chance," Ponson said during the spring of 2007. "The day the phone calls stop, then I don't have a chance anymore."

Just a hunch, Sidney, but the phone has probably stopped ringing. In lieu of a Cy Young Award, you'll have to settle for this.
I'm not buying the rogue business. Rogues tend to be annoying when around but they are usually spoken of warmly once they're gone and no longer bothering people on a day-to-day basis. Rogues can be appreciated from a distance. Ponson has been hated everywhere he's been, and I've never heard of anyone from his former teams telling roguish, Bill Brasky-style tales of his exploits.  They're just happy he's gone.