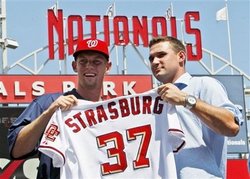 So far, MLB.com's "Fixing the Draft" series has been just fine. It dealt with the issues of an international draft and trading picks fairly straight up, presenting the pros and cons as most people understand them.  Today's entry, however — on the potential imposition of a hard slotting system for draft picks — is a propaganda piece, the sort of which many of us feared we'd see a lot of when MLB.com launched, but which has been more or less absent. This one, however, is a piece of journalistic malpractice.
At the outset, lets make sure we all know what we're talking about here. "Slotting" refers to the practice — non-biding at present — in which a team pays a drafted player a bonus on
where he's taken in the Draft. Currently, MLB makes suggestions as to what the picks should get. Some teams heed the suggestions, some do
not. There really is no penalty for exceeding slot except for drawing the ire of Bud Selig. There is anecdotal evidence that MLB punishes teams who exceed slot, but no one is really sure.
The owners — and most people who watch, but don't really understand the draft — would like to institute "hard slotting," which would impose NBA-style mandatory bonuses for each pick. The negotiation process would be over: you get picked first, you $X, and if you don't like it you can go play for the St. Paul Saints.  Personally, I disagree with hard slotting because I'm a fan of the free market and don't see why billionaire owners need to impose such a beast when, in an average year, each team pays a total of $6 million — Pudge Rodriguez money — to its entire slate of draft picks. But that's a big topic, so let's save my ranting on that for another day.
Today, let's ask this: why was no one from the Players Association quoted for this article? This would seem to be pretty critical, because just two weeks ago, the new head of the Players Association — in response to my question, I must egotistically add — revealed for the first time that the union considers the term "hard slotting" to be synonymous with "salary cap," and we all know how the union feels about salary caps. It fights them. To the death. And no matter what conciliatory things Mike Weiner might say about everything being on the table come 2011, you can bet your bippy that nothing the union refers to as a "salary cap" will be negotiable.
You'd think that little fact would be relevant to today's article. I mean, how can the pros and cons of hard slotting be complete when one of the cons is that implementing it would foment an ugly labor battle that risks a work stoppage?
Without the players' hard opposition to hard slotting, the article serves as mere owner propaganda. Propaganda, I'm going to guess, that will have the effect of making the union's eventual active opposition to hard slotting seem more unreasonable and unexpected than it really is ("But this has been discussed for years, why are you just complaining now . . . ")
Bad form, MLB.com.  Talk to Mike Weiner. Ask him what he thinks of hard slotting and re-run the calculus.