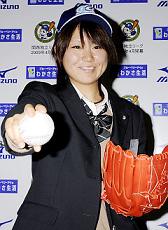 Eri Yoshida, for those of you who don't know, is the Female knuckleballer who played for the Kobe 9 Cruise of the Japanese independent leagues last year. She went 0-2 in 11 games.  Having obviously conquered Japan, she's now aiming her flutterball at the United States, saying on her blog that she's going to pitch in the Arizona Winter League this January.
Though not much in the way of real baseball talent takes part in the Arizona Winter League — if you're worth a damn you're in someone's spring training camp then — I'd still expect her to get shelled. Not because she's a woman, but because she's a seventeen year-old knuckleballer.  If all it took to compete with a knuckleball was the willingness to throw one, lots of high schoolers without any velocity would be throwing them. Heck, I would have been all over that back in the day.
They're not, however, because a knuckleball takes a lot in the way of touch, practice and experience to get right.  And even if you get a respectable one, you have to be able to keep them honest with an occasional fastball or something. Even Wakefield does that, with a fastball that would be pretty darn good for a lot of seventeen year-olds.  Call me crazy, but I can't see Yoshida possessing respectable enough gas to throw a get-me-over pitch when the knuckler isn't dancing.
But I do love knuckleballers and I do love crazy publicity stunts, so I'll be rooting for Erin Yoshida.
(Thanks to Ron of Baseball Over Here for the link)