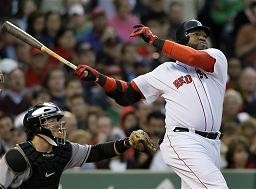 I went on yesterday about how Commissioner Selig's little committee was probably set up for cynical purposes. Today the Chicago Tribune's Phil Rogers goes in a different direction, hatching the conspiracy theory that the committee was set up to ban the Designated Hitter:
To
be fair, it's premature to ask such a potentially provocative question.
But thanks to Commissioner Bud Selig's decision to turn recommendations
for on-field matters over to a newly created version of the NFL's Competition Committee, the DH rule could face its first real threat since the American League accepted it permanently for the 1976 season . . . The commissioner did not mention the DH rule, but Cardinals manager
Tony La Russa and longtime Braves executive John Schuerholz, who joined
Selig on a conference call, both listed it as the one thing they
potentially would change if they could.
I'm no fan of the DH, so if there was even a shred of a scintilla of a hope that La Russa and the gang were going to recommend its abolition, I'd be playing it up like crazy. But there's nothing here to suggest that the committee is even going to look at the DH rule, let alone opine on it.
La Russa doesn't like it. Great. But that "if they could" in the last sentence of the blockquote is pretty important. Messing with rules is one thing. Abolishing the DH, however, messes with rosters. As in, the position on the AL roster that has historically had the highest average salary in baseball and is home to a lot of players who would otherwise be out of the league due to their inability to play defense. The Player's Union would no sooner agree to getting rid of the DH than the Teamster's Union would agree to give up seniority pay.
The DH made its debut three months before I was born. I've resigned myself to the DH. I've even prepared myself for the expansion of the DH to the NL one day, because I think that has pretty even odds of happening in my lifetime. Getting rid of it? No way. No how. The world simply isn't that just.