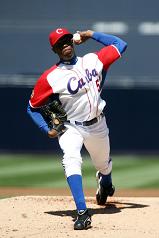 That little workout in Houston wasn't the only thing happening in Aroldis Chapman land yesterday. The other thing: Athletes Premier International and Edwin Mejia — his original agents —  sued his new agents, Hendricks Sports Management, claiming that they illegally lured him away after API and Mejia went through all the trouble of helping Chapman defect and setting up residency in Andorra and all of that.
For you lawyers out there, the claims are (1) tortious interference with a contract; (2) tortious interference with business relations; and (3) unjust enrichment.  For you non-lawyers out there, it amounts to a claim Hendricks gave Chapman a big song and dance, talked smack about the old agents, and dangled some unholy combination of lies and shiny things in front of his eyes in order to get him to sign on with team Hendricks, and now stand to unfairly profit from the giant bonus their client is about to receive. A copy of the lawsuit can be found here.
Players are allowed to switch agents if they want, but let's be clear: there's all kinds of ugliness in these sorts of relationships. If you want an education about this stuff, read Jerry Crasnick's excellent book about agents, which gives some pretty good insight about how agents steal clients from one another all the time. It takes a pair of brass ones to make it in that racket.
Obviously this suit isn't about wanting Chapman back. It's about wanting a cut of the $15 million+ that Chapman is going to get from one of the teams who watched him down in Houston yesterday. Whether the plaintiffs get any of that depends on whether the change of representation in this case was the usual unseemly affair, or an unseemly affair with a gloss of illegality sprinkled on top.