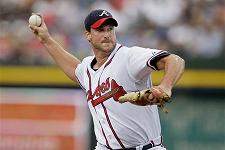 Though never considered a front runner, the Angels had been rumored at various times in the past few weeks to be in on re-signing John Lackey or trading for Roy Halladay. The point was that they want and need a starting pitcher. Now that those guys are off the table, they are turning to plan B. Wait — I watched him pitch a lot last year; let's call him plan C, D or E. Rosenthal and Morosi:
The agreement comes at a difficult time for the Angels, who are
looking for a top-of-the-rotation starter such as Halladay or Lee . . . As the
blockbuster nears completion, the Braves are an interested bystander.
The Angels now appear to be among the favorites to acquire Derek Lowe.
They could offer outfielder Juan Rivera, who is the type of
right-handed run producer that Atlanta is seeking.
On the one hand "they could offer . . ." is really weak as far as reports go. The Royals could offer them Zack Greinke. Heck, I could offer them my services as a starter too. It's about as hypothetical as it comes.
But then you remember that Rosenthal was the one floating the allegedly hypothetical Phillies-trade-Lee-and-get-Halladay story over the weekend. The one that no one believed and which seemingly had nothing to it until the exact moment it did.  Maybe I'm reaching — I do want to see my Braves unload Derek Lowe, and Juan Rivera could be useful to them — but, like the Lee thing, there could be more to this than meets the eye.