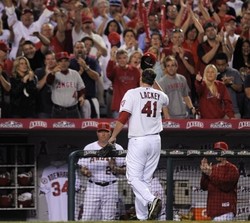 This is the most stunned I've been by a Red Sox transaction during the Theo Epstein era. I like to think I'm usually on the same page with the Boston braintrust when it comes to which players to pursue. But I fully expected the Red Sox to come out of this winter with Matt Holliday, Jason Bay or maybe an Adrian Beltre/Mike Cameron combination, as well as some high-upside pitching. I didn't see them anteing up for Lackey, not when next winter's starting pitcher market is shaping up as vastly superior to this year's.
But, as it turned out, no one else really stepped up for Lackey. Even though he was perceived as far and away the top free agent pitcher available, no one was willing to give him a better deal than the five-year, $82.5 million pact A.J. Burnett received from the Yankees last winter. So, the Red Sox took the plunge, even though Lackey has had some elbow problems two years running. What also makes it interesting is that they've seen the worst of Lackey. He's 3-7 with a 5.25 ERA against the Red Sox lifetime and 2-5 with a 5.75 ERA at Fenway Park.
So, now the Red Sox have six starters: Jon Lester, Josh Beckett, Lackey, Daisuke Matsuzaka, Clay Buchholz and Tim Wakefield. That's not surprising — it was a given that they'd add someone this winter — but that they've added a top-30 starter, rather than a Rich Harden-type question mark, would seem to make Buchholz more expendable. Of course, Roy Halladay is out now. But Adrian Gonzalez and Miguel Cabrera are among the superstars that could yet be up for grabs.
My guess is that the Red Sox won't go that route. If they do trade Buchholz, it could be for a fellow young stud. Milwaukee's Mat Gamel, Cleveland's Matt LaPorta and Texas' Justin Smoak would be possible targets, though I doubt the last two would be available. In Chris Carter, Brett Wallace, Aaron Cunningham, Daric Barton and Sean Doolittle, the A's have more corner bats than they can play and could put together a nice package.
But I think Buchholz stays and Wakefield either opens the season on the DL or in the bullpen. Buchholz is going to be needed in 2011 and beyond, and it's easier to find cheap hitters that quality starters.
That's what the Red Sox might do now. They should still have the cash to sign Adrian Beltre to play third base if they wish, but they still have the flexibility to put Kevin Youkilis in third base and they have Casey Kotchman at first and Jeremy Hermida in left, both of whom have flashed real potential in the past. Both won't be starters on Opening Day, but one might.
My guess is that the Red Sox add Beltre to play third and pursue Jonny Gomes to battle Hermida for playing time in left field. It'd complicate things if the Mike Lowell deal doesn't get done, but the Red Sox only stood to save $3 million with the swap anyway.