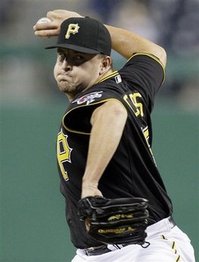 Earlier today, Craig had some thoughts
on how Pirates general manager Neal Huntington treated right-hander
Matt Capps, who was non-tendered on Saturday. I'm beginning to think
that Huntington announced that he would tender contracts to all of his
arbitration-eligible players only to attempt to drum up some late trade interest in the
26-year-old reliever. It obviously didn't work.



Huntington defended the surprising decision in an interview with Dejan Kovacevic of the Pittsburgh Post-Gazette on Sunday:



"We spent a ton
of time and energy on this and made an aggressive effort to try to keep
Matt in Pittsburgh. The bottom line is that the arbitration process
allows for these types of decisions to be made. Once you tender a
player, it's really a no-lose situation for the player. Even if he
loses, he's going to get a substantial raise. We didn't feel like going
through the process with Matt was a good decision for us. He felt like
it was better for him to become a free agent than to accept our offer.
He feels like he's going to get that much, if not more, as a free
agent. They might be right, and they might be wrong. We feel like we
can take that money and apply it elsewhere and do as well as we
expected Matt to do. And, again, we might be right, and we might be
wrong."



Capps, meanwhile, sees things a bit differently:

"I don't know
why, I just had a gut feeling about it, even after I read about
Huntington saying he was going to tender me. I just had a gut feeling
this was going to happen. … Well, not so much the non-tender. I
thought they would try to sign me real quick, then trade me away."

Both sides haven't closed the door
on re-opening negotiations, but the good news for Capps is that he is
now able to sign with any team. Speaking of which, Nick Piecoro of the
Arizona Republic reports that the Diamondbacks have interest in Capps.