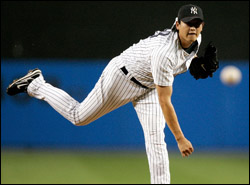 Welcome to non-tender day, everybody. Yes, today is the deadline for teams
to decide whether to tender
contracts to unsigned players on their 40-man roster.
It's usually done
with a player between three and six years of service time coming off injury or a team simply doesn't feel the player is worth a
new contract. However, this winter we have a number of teams (I'm looking at you, Padres and Reds) who would
prefer not to keep a productive player because of a considerable jump in salary.
Over the past few weeks, I've profiled a few of the most likely non-tenders (Kelly Shoppach, Garrett Atkins, Kelly Johnson) and
even though Shoppach was recently traded to the Rays, as a result, his new teammate Dioner
Navarro is now one of the more likely names on the chopping block.
Here are some
other non-tender candidates of note, complete with '09 stats:
Kevin Correia (Padres) – 12-11, 3.98 ERA
Jack Cust (Athletics) – .240/.356/.417 with 25 home runs and 70 RBI
Chien-Ming Wang (Yankees) – 1-6, 9.64 ERA
John Buck (Royals) – .247/.299/.484 with eight home runs and 36 RBI
Jonny Gomes (Reds) – .267/.338/.541 with 20 home runs and 51 RBI
D.J. Carrasco (White Sox) – 3.76 ERA and 1.41 WHIP in 93 1/3 innings
See any good fits for your team? Keep it here throughout the day for the non-tenders as they roll in.