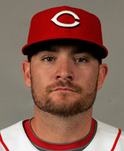 Jonny Gomes is the latest talented player to be non-tendered as the Reds cut ties with him on Saturday.
The 29-year-old Gomes was a surprise power source in '09, hitting
.267/.338/.541 with 20 home runs and 51 RBI in just 281 at-bats. Among
NL outfielders with 250 at-bats or more, Gomes ranked 12th with a .879
OPS  — higher than the likes of Matt Kemp, Andre Ethier and Carlos
Lee, just to name a few.



Gomes should have a great deal of
appeal now that he'll be able to negotiate with all 30 teams. He has a
.517 slugging percentage and .885 OPS against left-handers in his
career, making him a prime candidate for a platoon. His defense is
decidedly-wretched, so he'd have more value in the American League.



Though the Reds look pretty cheap
here, it's not like they don't have plenty of internal options to
replace him. Chris Dickerson, Wladimir Balentien, Chris Heisey and Todd
Frazier are all possibilities for left field with Gomes out of the way.