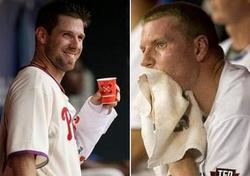 After providing plenty of rumors and news all week at the winter meetings, Ken Rosenthal of FOXSports.com has a doozy of an idea regarding Roy Halladay and the Phillies:



You want a blockbuster? How about one that includes not one, but two former Cy Young Award winners?



I have no proof
that the Phillies are trying to move left-hander Cliff Lee as part of a
three- or four-team trade for Blue Jays right-hander Roy Halladay.



But I've got a hunch.



(snip)



So, here's the
deal: Lee goes somewhere for prospects. The Phillies include the
prospects in their package for Halladay, maybe keep one or two for
themselves. Halladay gets his extension, the Jays get a bounty of young
players and some lucky team gets Lee for one year at his bargain salary
of $9 million.



Who could be that lucky team? The
Mariners, says Rosenthal. Again, it's just a hunch, but Rosenthal
thinks Mariners' prospects Michael Saunders and Phillipe Aumont could
appeal to the Blue Jays because they are Canadian.



Is the idea far-fetched? Maybe. If
the Phillies want to go all-out this season, they could afford to keep
both. But both Lee and Halladay are free agents after 2010 and would
cost somewhere around $150-200 million to stick around, a figure that
makes every team outside of the Yankees blush. Rosenthal's idea
wouldn't give Phillies fans the dream rotation they covet, but his
logic is pretty sound.