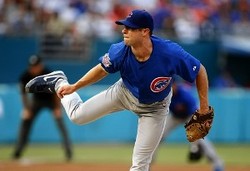 Rich Harden's new deal gives him $11.5 million reasons to want to stay healthy. This piece at MLB.com talks about what he's doing to make that elusive goal come to pass:
Harden has been searching for answers and believes he is getting there.
He works with a private physiotherapist in Phoenix and has worked hard
at tailoring his offseason and in-season workout programs to keep his
shoulder strong. Most important has been his weight-training program.
He backed off that in Oakland to try and protect the shoulder, and only
found that caused more problems.

"I've tweaked it as I've gone along, added some things, subtracted some
things, and I believe I've found something that works," Harden said.
"I've had some injuries, but I've worked hard to put it behind me, now
I can get out there and make 30 starts. I feel this is a good fit for
me."
Not to spook Rangers' fans, but this sounds like one of those "Player X is in the best shape of his life" articles that you always read in the spring. The ones that are followed with yet another trip to the DL come May 1st.  Harden has been on that DL seven times in five years, and now he's going to a team where the man in charge makes a big, big point of pitchers going long into games as often as possible.
Like so many people, I love Harden's stuff and love to see him pitch.  Given his history, however, I just don't have a strong feeling that we'll get to see him pitch as much as we'd like — or he'd like — in 2010.