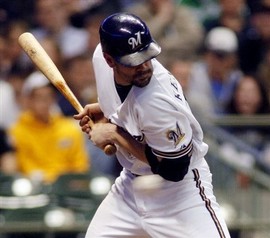 The Royals got 31 homers and 101 RBI in 618 plate appearances from their two primary catchers on their way to finishing 65-97 last season. Now they're going to someone who had two homers and 43 RBI in 526 plate appearances.
That's the way it is in Kansas City. Dayton Moore's two biggest priorities after taking over the club in 2006 should have been acquiring long-term options at shortstop and catcher, two spots which the Royals have generally filled with spare parts and subpar veterans through the years. Finding cornerstone players at those spots is notoriously difficult, of course. But Moore is like a blind man playing darts.
So, now we get Kendall, apparently on a two-year, $4 million contract. He's 35, he's hit in the .240s three straight years and he hasn't slugged as high as .350 since 2004, his last year in Pittsburgh. That his OBP is still adequate is largely due to the intentional and unintentional walks he received while hitting in front of the pitcher for the Brewers. In his last stint in the American League, he hit .226/.261/.281 in 80 games with Oakland to begin 2007. By any measure, he's one of the game's weakest regulars offensively.
Whether he's an asset defensively depends on who you ask. The Brewers seemed happy with him for the most part, though they made no effort to re-sign him this winter. He was often criticized for his glove towards the end of his Oakland tenure. Incredibly, he threw out 43 percent of basestealers in 2008. However, he came in at nine percent in 2007 and 20 percent last year.
That Kendall is getting a two-year contract is pretty remarkable, and it seems rather likely that he'll be the Royals' Opening Day starter. Olivo won't be back as a free agent, and it's long been assumed that Buck would be non-tendered prior to Saturday's deadline.
Now, the Royals had no chance to go out and find themselves a long-term catcher in free agency, but there were alternatives. Before he was traded to Tampa Bay, Kelly Shoppach was available for next to nothing. Dioner Navarro still might be. Arizona's Chris Snyder is another who would cost little. It is possible Moore will go out and get someone to pair with Kendall, perhaps even someone who would do the bulk of the catching. But it's not like he deserves the benefit of the doubt at this point.
Update – The deal is actually worth $6 million, according to The Associated Press. Also, it's being reported that the Royals are releasing Buck.