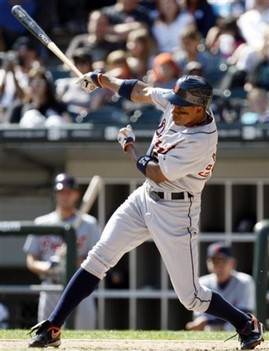 The incredible thing is that the Diamondbacks were supposed to be the driving force behind the whole thing.
Maybe GM Josh Byrnes was simply so eager to get the deal done that he lost his way, but it looks like the Diamondbacks are really losing out in the three-team deal sending Curtis Granderson to New York, Max Scherzer to Detroit and Edwin Jackson to Arizona.
The full deal (ages as of Opening Day, 2010):
New York gets
Granderson (29) – from Detroit
Detroit gets
Scherzer (25) – from Arizona
Austin Jackson (23) – from New York
Daniel Schlereth (23) – from Arizona
Phil Coke (27) – from New York
Arizona gets
Edwin Jackson (26) – from Detroit
Ian Kennedy (25) – from New York
One can make a case for Scherzer as the most valuable player in the deal. The 11th overall pick in the 2006 draft went 9-11 with a 4.12 ERA in his first full major league season. Now that sounds pretty unremarkable, but along the way, he fanned 174 in 170 1/3 innings. Scherzer's 92-96 mph fastball and slider are both strikeout pitches. His changeup lags behind, but he could turn into a legitimate top-30 starter.
The concern with Scherzer is durability. He's had some shoulder problems, and the Diamondbacks must not be sold on him developing into a reliable 200-inning-per-year guy. That's the only reason it makes any sense to trade him for Edwin Jackson.
Not that Jackson is chopped liver. He was one of the AL's best pitchers for five months last season before tumbling in September and finishing 13-9 with a 3.62 ERA. But Jackson is just two years away from free agency and is going to make at least $5 million next season. If he turns in another strong campaign, he'll be due $8 million-$10 million in 2011. Scherzer is five years away from free agency. If Jackson is the slightly better bet on the mound for the next two years, the difference in salaries more than makes up for it.
The secondary pieces in the deal don't even it up for the Diamondbacks. Schlereth was their top pick in the 2008 draft. The left-hander is purely a reliever and he has command issues, but he's also a strikeout machine with his 92-95 mph fastball and hard curve. He could battle it out with Ryan Perry to be the Tigers' long-term closer (pending a still possible Joel Zumaya comeback).
Kennedy was viewed as a legitimate No. 3 starter two years ago, but he faltered badly for the Yankees in 2008 and he missed most of last season following surgery for an aneurysm under his armpit. His fastball is below average, but he does have a four-pitch arsenal that could make him a decent enough National League pitcher. Ideally, he's a cheap No. 4 now. He is worth gambling on, yet I'd still rather have Schlereth going forward.
So, the Diamondbacks lose. And I think it's a big enough loss to make the deal a win for the other two teams.
Granderson's defense has slipped a bit and it looks like he'll always be a liability against lefties, but he still brings quite a bit to the table and he should put up some big numbers in center field for the Yankees. His contract is also manageable, as he's due $5.5 million next year, $8.25 million in 2011, $10 million in 2012 and then $13 million or a $2 million buyout in 2013.
Perhaps the Yankees should have just signed Mike Cameron instead, but the price for Granderson was right. Austin Jackson was the only piece they gave up likely to play a big role going forward.
Austin Jackson becomes the Tigers' center fielder of the future, if not the present. He got off to a big start in Triple-A last season, but he fell to .300/.354/.405 by season's end, suggesting that he could use one more year at the level. The Tigers may give him a job now, though, since they need to get cheaper and justify the trade. Jackson projects as an above average regular, but not a star. He has enough range to stay in center for a few years, but he'll likely need to move to a corner someday. Offensively, he should hit for fine averages and deliver 20 homers per year in his prime.
Scherzer should open the year as the Tigers' third starter, and Schlereth will have every opportunity to compete for a bullpen spot. Coke, a homer-prone lefty with a solid fastball-slider combo, could be tried as a starter. The Tigers might now have the financial flexibility to up their bid for a veteran closer and take a look at some potential fourth starters and outfielders. They could definitely use a top-of-the-order guy with both Granderson and Placido Polanco gone.
With Granderson in New York, it seems awfully unlikely that the Yankees will re-sign both Johnny Damon and Hideki Matsui. Everyone seems to think Damon is the better bet to stay. Melky Cabrera should be available in trade talks, but Brett Gardner is also a candidate to go. Since he, like Granderson, is a left-handed hitter, he'd probably be less useful as a reserve than Cabrera going forward.