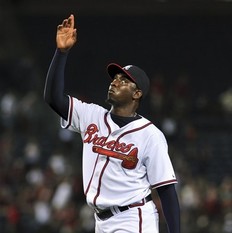 The Braves certainly weren't counting on Rafael Soriano accepting arbitration when they signed Billy Wagner and Takashi Saito last week, but now they have three expensive relievers on a roster already likely overbudget and still short a first baseman and an outfielder.
It certainly could be worse. Soriano is one of the game's most dominant relievers, and while he would have been a poor gamble on a three-year, $24 million contract, he should be an asset at around $8 million for 2009. That'd be a reasonable figure for a settlement if the two sides can avoid a hearing. Soriano made $6.5 million while collecting 27 saves last season. He had a 2.97 ERA and a 102/27 K/BB ratio in a career-high 75 2/3 innings.
Soriano, Carl Pavano and Rafael Betancourt were the only three free agents to accept arbitration prior to Monday night's deadline. They're now signed players and must be placed back on 40-man rosters. Like other free agents signed to major league deals, they have full no-trade clauses until June 15. However, unlike other free agents, they won't get guaranteed contracts, allowing teams to cut them in spring training if they can justify it for performance reasons.
That's a big reason why Soriano's choice was hard to believe. The Twins and Rockies, respectively, are happy to have Pavano and Betancourt back. The Braves, though, simply wanted the draft picks Soriano's departure would bring them. They tried to dissuade him from accepting arbitration by telling him he'd be a sixth-inning guy. Since they weren't counting on spending $20 million on relievers next season, they could well release him in spring training if he gives them any reason to do so.
Ideally, it won't come to that. Soriano is an excellent pitcher, and he'd be a better choice than Takashi Saito to work the eighth if the Braves can create the financial flexibility to retain him. Also, there's the chance that a trade could be worked out, with Soriano's permission. Now that they won't have to give up a draft pick for him, teams like the Tigers, Rays, Orioles and Astros could be more interested in his services. The Astros, in particular, could step up their pursuit since they dodged a bullet with Jose Valverde's decision to decline arbitration tonight.