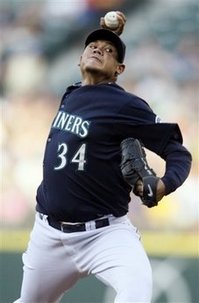 As our own Craig Calcaterra noted on Twitter from the winter meetings in Indianapolis, "there's a reason he gets all the news."
Ken Rosenthal of FOXSports.com reports that the Mariners have initiated long-term contract discussions with ace Felix Hernandez, but the two sides seem "far apart" at the moment.



Hernandez, 23, is under team control
for two more seasons. He'll likely seek somewhere around $20 million
per season, so the Mariners' four-year, $45 million offer won't get it
done. According to Rosenthal, Hernandez is willing to go year-to-year
in arbitration before seeking a "C.C. Sabathia-type contract" in free
agency.
Hernandez earned $3.8 million last season and figures to earn somewhere around $7 million in 2010.



Aside from Zack Greinke, Hernandez was arguably the game's best pitcher in 2009. The young right-hander was 19-5 with a 2.49 ERA, 1.14 WHIP
and 217 strikeouts in 238 1/3 innings pitched. 29 of Hernandez's 34
starts were "quality starts," leading the majors. He finished second in the AL Cy Young, earning two first-place votes.
On the surface, today's report doesn't give us a lot of information, but with the rumored signing of Chone Figgins, it's clear that the Mariners are committed to winning.