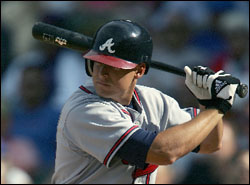 December 12th is the deadline for teams to decide whether to tender
contracts to unsigned players on their 40-man roster. With that in
mind, here's the third in a series (read part one and part two) regarding some of the most likely
non-tender candidates and where they may find new homes. Though this is
based on some logic, it's mostly intended to be a fun exercise.



Kelly Johnson – .224/.303/.389 with eight home runs and 29 RBI in 303 at-bats (106 games) in 2009.



Why
he's a goner: Johnson, who turns 28 in February, made $2.825 million in
'09 and figures to make over $2-3 million again in arbitration this
winter. He lost the starting second base job to Martin Prado upon
hitting the disabled list with a right wrist injury in July. Prado's
.307/.358/.464 slashline to go along with 11 homers and 49 RBI in 2009
have made Johnson expendable.



Johnson thrived with the transition from left field to second base
after Tommy John surgery in 2006, batting .276/.375/.457 with 16 home
runs and 68 RBI in 2007. However, he has fallen into some bad habits at the
plate over the past two seasons, eroding his once-promising plate
discipline.



2007: 13.2% walk rate, 39.3% swing rate, 18.4% swing on pitches outside the zone

2008: 8.7% walk rate, 46.9% swing rate, 25.6% swing on pitches outside the zone

2009: 9.6% walk rate, 44.4% swing rate, 23.8% swing on pitches outside the zone



He's seen his OPS dip against right-handed pitching, too:



2007: .858

2008: .793

2009: .595



Johnson
is known as a notoriously streaky hitter — he needed a .398/.429/.463
flourish in September of 2008 just to finish the season at .287/.349/.446.
In 361 career games at second base, he hasn't been a standout with the glove (-17.7
UZR). Still, Bill James projects a .274/.354/.445 line for him in 2010, rendering him a fine bounce back candidate offensively.



Possible fits:



Cubs:
Though he is a supreme defender, Mike Fontenot's .236/.301/.377
slashline in 2009 has him under consideration for being non-tendered in
December, as well. The Cubs have been linked to Luis Castillo of the
Mets as they attempt to find a third team to take Milton Bradley off
their hands.



Dodgers: Orlando Hudson and Ronnie Belliard are free agents,
leaving general manager Ned Colletti to consider alternatives. They
declined to offer Hudson arbitration this week, a possible indication
that the suddenly cost-conscious Dodgers didn't even want to risk the
chance that he'd accept. 24-year-old Blake DeWitt (.257/.333/.384 in
417 major league at-bats) is a potential fallback.



Twins: Minnesota's second base options combined to hit a pathetic
.208/.299/.266 with just two home runs and 45 RBI in 2009. The Twins
aren't likely to pursue top-tier options like Orlando Hudson, Mark
DeRosa or Felipe Lopez this winter.



Cardinals: Johnson has been linked in rumors to the Cardinals
before, so it's possible they could show some interest if he's cut loose
in December. The incumbent Skip Schumaker batted .303/.364/.393 in
2009, but the converted-outfielder ranked as one of the weakest
fielding second baseman in the National League, according to UZR
(Ultimate Zone Rating). The Cards could bank on a rebound from Johnson,
even as a bench player.



Where he should end up:




This seems like the sort of bargain-basement signing that would appeal
to Minnesota general manager Bill Smith. Should Johnson and new
shortstop J.J. Hardy rebound, the Twins would have a pretty potent
lineup for their first season at Target Field.