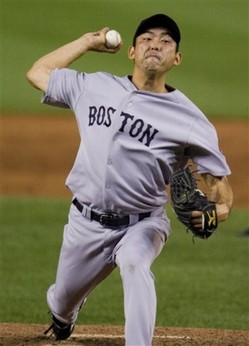 Takashi Saito's deal with the Braves is worth $3.2 million and includes $2.3 million in incentives, most of them based on games finished, according to FOXSports.com's Ken Rosenthal.
That sounds about right to me. Saito's stuff has shown signs of decline as a result of his elbow problems, but he still managed a 2.43 ERA in 55 2/3 innings for the Red Sox last season and he got better as the year went along. Of course, his WHIP has gone from 0.91 to 0.72 in his first two seasons with the Dodgers to 1.19 and 1.35 the last two, but his strikeout rate remains strong and he's returning to the easier league now.
The Braves have essentially swapped two young injury-prone relievers in Rafael Soriano and Mike Gonzalez for two much older ones in Billy Wagner and Saito. In the process, they've saved themselves somewhere around $5 million for 2010 and the necessity of multiyear commitments. Also, they're going to end up gaining three draft picks. They lost a first-rounder for Wagner, but they'll pick up four when Soriano and Gonzalez depart.
I think it's a fair trade. Soriano and Gonzalez both have lengthy injury histories and are going to be very risky propositions on the three-year deals they could land this winter. An Atlanta bullpen with a top five of Wagner, Saito, Peter Moylan, Kris Medlen and Eric O'Flaherty still looks very good, and the Braves would currently have my vote for the title of the National League's best pitching staff.