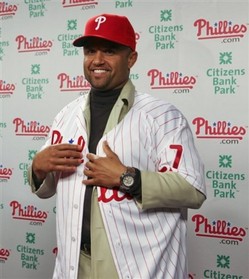 Phillies sign infielder Placido Polanco to a three-year, $18 million contract with a mutual option for 2013.
Polanco has already had a pretty unusual career, but the Phillies are showing way too much faith that he'll continue to defy the aging curve. Second baseman have a nasty habit of falling off a cliff in their low-30s, yet Polanco has gotten more durable with age and his defense has held up remarkably well.
On offense, it's easy to point to his OPS slipping from 846 to 768 to 727 the last three years and say that it's a steep decline. However, his game hasn't changed at all. He's finished with 31-36 doubles, 8-10 homers and 35-37 walks in each of those seasons. Because of his limited power and poor walk rate, his offense is entirely batting average driven, and he's going to hit .290 some years and .320 others. The Phillies should be content if he matches that 768 mark from 2008, and it's entirely possible that he'll have a couple of more years at that level.
The third year is what really hurts the deal. Philadelphia was likely Polanco's preferred destination. The team is a World Series favorite, and he's played there before. I don't see GM Ruben Amaro Jr. felt the need to best every other potential offer, particularly when Mark DeRosa and the superior Adrian Beltre were available. Polanco should be above average defensively and average offensively at third. He's an upgrade from Pedro Feliz. But I think the Phillies could have done better.
Beltre, in particular, was the best fit for their lineup. Polanco's addition would work better for the Phillies if the team were willing to drop Jimmy Rollins down to the seventh spot and go with Shane Victorino first and Polanco second. However, they'll almost certainly start the year with Victorino hitting seventh.
Victorino had a .358 OBP last season. His worst mark in four seasons as a regular is .346. Polanco finished at .331 last season, though he was at .388 and .350 in the two years prior. Rollins, on the other hand, came in at .296 last season and has never topped .350 in a year. Rollins isn't necessarily a bad leadoff hitter — he did lead the NL in runs scored with 139 in 2007 — but except for when he's at his best, he'd be more useful hitting in the bottom half of the order.