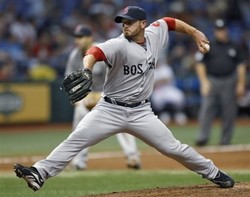 A source told FOXSports.com's Ken Rosenthal that the Braves and Billy Wagner have come to terms on a one-year, $7 million contract with a vesting option for 2011.
The Braves were expected to be in on Wagner, but it's a curiously timed move, given that the team just offered arbitration to both Rafael Soriano and Mike Gonzalez on Tuesday. If either accepts the offer, the Braves would find themselves in position of two relievers due in excess of $6 million in 2010.
The odds are against that happening, though, and if the Soriano and Gonzalez depart, the Braves will could gain two additional first-round picks, plus two supplemental first-rounders, to make up for the one they're giving the Red Sox to sign Wagner.
The Red Sox are also surely pleased with this turn of events. They weren't poised to make a strong effort to retain Wagner, and now they're set to land the 19th pick in the draft, assuming that the Braves fail to sign a higher ranked free agent. Matt Holliday, Jose Valverde, Jason Bay, John Lackey and Marco Scutaro are the only ones who will take precedence for the pick, and it's highly unlikely Atlanta will land any of them. The Red Sox could now go ahead and ink Scutaro, safe in the knowledge that they'd still have at least one first-rounder.
In Wagner, the Braves get perhaps the best one-year closer option on the market. $7 million is certainly a fair price to pay, and the $6.5 million vesting option only kicks in if he finishes 50 games next year. Wagner will need to be both effective and healthy to pull that off, and if he does, the Braves would most likely want him back at that price anyway.