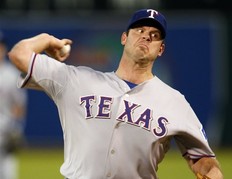 Sources told FOXSports.com that the Orioles have approached the Rangers about Kevin Millwood, who is entering the final year of a deal that will pay him $12 million in 2010.
Such news figures to be met with a collective groan from Orioles fans, but spending $12 million on Millwood probably wouldn't do anything to impact the team's remaining offseason plans. It's not like John Lackey or Matt Holliday is headed to Baltimore, and it'd be a mere one-year commitment to help provide stability in a rotation that could be incredibly young aside from Jeremy Guthrie.
As a straight salary dump, it could work for both teams. The Rangers have financial issues and may prefer not to pay Millwood's ample salary next year. If the Orioles could bring him in without surrendering a legitimate prospect, they'd be a bit more interesting next year.