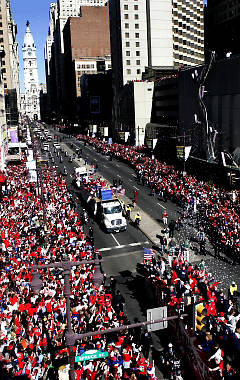 What happens when baseball writers
are bored during the Thanksgiving holiday? They try to find out if two
million people actually attended the Phillies' World Series parade in
2008.



Here's a sampling of some of the investigative work of Peter Mucha of the Philadelphia Inquirer:


Along that four-mile stretch – about 21,000 feet – crowds packed
about 20 to 25 feet wide on each side. Suppose crowds were 30 feet deep
on each side – allowing spillage over the curbs or extra room in more
open spots – making 60 feet total, counting both sides.
That means the lines of onlookers filled about 1.25 million square
feet – nowhere close to the room two million Phils (or Flyers or 76ers)
fans would need.
The densest crowds (outside of Tokyo subway cars) have about 1 person every 2.5 square feet.
One person every 5 square feet is more likely, said McPhail, after reviewing photographs of the parade.
That means the parade-route throngs contained as many as 500,000 people – but perhaps as few as 250,000.
Combined with the stadiums' 100,000, that's a rough preliminary range of 350,000 to 600,000 people.
You get the point. Exaggerating the
size of large gatherings is nothing new, whether we're talking about
political rallies or the Florida Marlins. If Philadelphia wants to
think two million people were there, good for them. It's worth noting
that an estimated 1.5 million people turned out for the Yankees' parade earlier this month, a figure that seems much more realistic, if not conservative for New York.