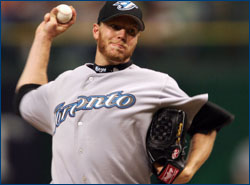 Nick Cafardo of the Boston Globe is back with his latest batch of Hot Stove morsels. While his Sunday column is always worth a complete read, here's just a few items of interest.



– General manager Theo Epstein would
prefer not to give up Clay Buchholz and Casey Kelly for Roy Halladay.
The Red Sox feel his current price tag is too high considering he is 33
years old, will require a long-term contract and has thrown over 1800
innings this decade. According to Cafardo, their ideal situation would
be to sign John Lackey and deal Buchholz for a young hitter.



– The pitching-hungry Brewers have
talked to the Rangers about acquiring Kevin Millwood, but so far Texas
isn't biting. Millwood has one year and $12 million remaining on his
contract, so moving his salary would create some room should they
decide to pursue Texas-native John Lackey.



– Despite being linked in trade rumors, Derek Lowe hasn't heard from the front office regarding a potential destination.



– Cafardo finds the Cardinals a
"good bet" to sign Miguel Tejada, though he also thinks they could be
interested in Mike Lowell if Boston eats part of the contract. The
Giants, Rangers, Orioles (really?) and Mariners are also believed to
have interest in Tejada, according to Cafardo.
3:30 pm ET – Update: In regards to a possible Millwood-to-the-Brewers trade, Adam McCalvy of MLB.com reports that Rangers general manager Jon Daniels said he hasn't spoken with Milwaukee general manager Doug Melvin in weeks. It doesn't exactly refute Cafardo's report, nor does it dismiss the chance of future negotiations.