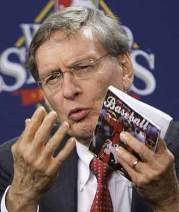 He has presided over realignment,
revenue sharing, continued expansion, changes to the All-Star game,
instant replay, Interleague play, the Wild Card, the World Baseball
Classic, unprecedented labor peace, and of course, steroids and the
Mitchell Report, among other things. Not bad for someone who wore the
title of acting commissioner from 1992 to 1996.



But according to Phil Rogers of the Chicago Tribune, Bud Selig will step aside as commissioner after his current contract expires following the 2012 season. Appropriately enough, the next labor agreement expires in December of 2011.



The decision doesn't come as much of
a surprise if you remember that Selig announced his plans to retire
once before, only to have his contract extended for three more years.
However the 75-year-old Selig still has other plans outside baseball
that he'd like to pursue, namely writing a book and, yes, teaching history.



Rogers speculates on some potential
replacements for the top spot, ranging from top lieutenants Bob DuPuy
and Rob Manfred to popular executives like Andy MacPhail of the
Orioles. MacPhail is the son of former American League President Lee
MacPhail and the grandson of Larry MacPhail, who served as chief
executive to the Reds, Yankees and Brooklyn Dodgers. Both are in the
Hall of Fame. MacPhail is held in high regard among major league owners.



For someone in their late-20s, it's
almost hard to remember baseball without Selig as its commissioner. For
all the grief he's taken, and many times rightfully so, Selig has
introduced radical and sweeping changes to our game. Some went along
kicking and screaming at the time, but it's difficult to argue that we
aren't better off with realignment and the expanded playoffs that along came
with it.
This isn't to say that the game is perfect. Some (including
Mike Scioscia) would like the playoffs to move at a more natural pace
and I'm sure it will happen. Revenue sharing has flaws of its own that must be addressed in the coming seasons. To his credit, I've found Selig to be a reasoned and
prudent steward of the game, and I expect nothing less until his
contract expires. That said, I look forward to seeing how the next commissioner can build upon Selig's accomplishments.