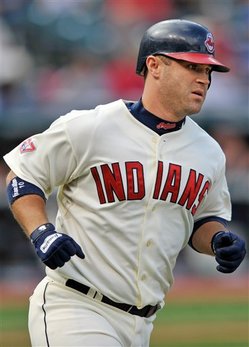 December 12th is the deadline for teams to decide whether to tender
contracts to unsigned players on their 40-man roster. With that in
mind, this is the first in a series regarding some of the most likely
non-tender candidates and where they may find new homes. Though this is
based on some logic, it's mostly intended to be a fun exercise.



Kelly Shoppach – .214/.335/.399 with 12 home runs and 40 RBI in 271 at-bats (89 games) in 2009.



Why he's a goner:



Shoppach, 29, made $1.95 million in 2009
and is in line for another raise in arbitration this winter. In
retrospect, the Indians might have been wise to cash in on his
impressive 2008 season (21 homers and an .865 OPS in 352 at-bats), as
they'll be lucky to find a taker before December 12. Shoppach just
doesn't fit into Cleveland's plans anymore with cheaper options like
Wyatt Toregas, Lou Marson (acquired in the Cliff Lee trade) and top
prospect Carlos Santana also in the pipeline.



With Victor Martinez catching a few games a week until he was
traded to Boston in July, Shoppach appeared in just 89 games in 2009.
He's always carried the reputation as a hacker (a Mark Reynolds-like
37.8% career strikeout rate), leaving him at risk for a low batting
average. Predictably, his BABIP (batting average in balls in play)
plummeted from .359 in 2008 to .286 in 2009, resulting in a career-low
batting average of .214. Despite the down year, Shoppach's walk rate
progressed for a second straight season. He has amassed a very
productive career OPS of .776 and a park-adjusted OPS+ of 105 over his
first 909 major league at-bats.



Here's a quick comparison with Bengie Molina, arguably the most "prominent" catcher in free agency:



2007: .731 OPS in 497 at-bats (OPS+ 86)

2008: .767 OPS in 530 at-bats (OPS+ 98)

2009: .727 OPS in 491 at-bats (OPS+ 86)



And here's Shoppach:



2007: .782 OPS in 161 at-bats (OPS+ 102)

2008: .865 OPS in 352 at-bats (OPS+ 128)

2009: .734 OPS in 271 at-bats (OPS+ 98)



Maybe
this is an unfair comparison with Shoppach's limited sample size, but
the 35-year-old Molina is poised to make several million dollars in
free agency while Shoppach, who is at least Molina's equal defensively
and five years younger to boot, isn't. Food for thought, anyway.



Possible fits:



Blue Jays: Though the Jays will offer Rod Barajas arbitration, general manager Alex Anthopoulos says the 34-year-old catcher will probably find a multi-year offer elsewhere.
Earlier this week we learned that the Jays have interest in free agent
Yorvit Torrealba. They were also, albeit briefly, connected in trade
talks to the Diamondbacks' Chris Snyder. Prospect J.P Arencibia had a
tough season with Triple-A Las Vegas, so he may need some extra
seasoning in the minors.



Mets: Brian Schneider is a
free agent, leaving Omir Santos and young Josh Thole as rather
unsatisfactory in-house options at backstop. Not surprisingly, the Mets
have been rumored to have interest in nearly every catcher available
via free agency and trade.



Royals: The Royals declined Miguel Olivo's $3.3 million option
earlier this month and John Buck will likely join Shoppach among those
non-tendered in December. General manager Dayton Moore wants to make
defense a priority behind the plate after the Royals led the majors in
passed balls and wild pitches in 2009. Shoppach had six passed balls in
672 innings last season. Olivo led the majors with 10 in 846 innings.



Where he end should up:



I could see Shoppach landing in any
of the situations above, but I have a hard time believing the Mets will
commit the kind of money it will take to sign Molina, Barajas or Olivo
when they have so many other areas of need on their roster. This leaves
them looking at low-cost, high-upside options like Shoppach, creative
trades, such as swapping Luis Castillo for another bad contract
(Snyder), or, quite possibly, going with the status quo. Signing
Shoppach to a bargain contract off a subpar season would allow Thole to
continue to develop in the minors while thankfully taking the bulk of
the playing time away from Santos, who shouldn't be starting on a team
that intends to compete for a playoff spot next season.