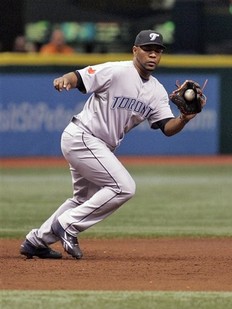 Not to pick on MLB.com's Jordan Bastian, who is hardly the only one saying it, but included in his writeup of the Jays' Alex Gonzalez signing is the following note:
"Strong "D" at the position will be important in helping make up for having Edwin Encarnacion in place as the starting third baseman."
In fact, it's being repeated so often that one gets the idea that the Jays really think it's true.
But, really, it's a ludicrous idea.
Signing a limited player at shortstop to make up for a limited player at third base is an awful way to go about building a team.
Sure, Jimmy Rollins and Jack Wilson could help out a lead-footed third baseman with their impressive range at shortstop. But Gonzalez? In 2010? He's still very good at handling everything he towards him, but he's not going to head deep into the hole and still throw guys out with regularity.
Plus, Encarnacion's range isn't a problem. He makes as many fine plays as an average third baseman. It's just that he tends to botch far more than most. Gonzalez isn't making up for that. I mean, there's actual visual and statistical evidence that it doesn't work that way, considering that the two played side-by-side in Cincinnati throughout 2007 and for part of last season.
So, the real question is why Encarnacion is still being penciled in at third base when everyone knows he's a liability there. It's not as though the Jays don't have some flexibility. At the moment, both outfield corners, first base and DH are all question marks, with only Adam Lind guaranteed of filling one of the spots on Opening Day. Encarnacion has enough speed to play the outfield, and while it could be ugly at first, he might even become adequate in left or right eventually.
The Jays would just as soon see Encarnacion and his $4.75 million salary go away, but it's doubtful he'll be traded this winter since there's so little respect for his defense. His bat, on the other hand, remains very promising. Encarnacion is just turning 27 in January, and even though he's never busted out offensively, he has a solid 790 career OPS. He even finished strong in his into to the AL, hitting .274 with seven homers and 20 RBI in 95 at-bats between September and October. He's not a third baseman, regardless of who is put next to him at shortstop, but he could be a valuable player if the Jays are willing to try something different.