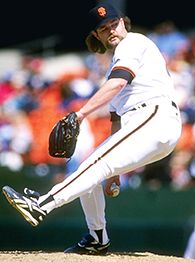 OK, so I'm probably pretty unique in this regard, but one of my favorite things to do upon the annual release of the Hall of Fame ballot is to check who didn't make the cut. Fortunately, this has become a lot easier with Baseball-Reference's final year pages
New qualifiers for this year's ballot last played in 2004. Chosen for inclusion were Roberto Alomar, Kevin Appier, Ellis Burks, Andres Galarraga, Pat Hentgen, Mike Jackson, Eric Karros, Ray Lankford, Barry Larkin, Edgar Martinez, Fred McGriff, Shane Reynolds, David Segui, Robin Ventura and Todd Zeile. So let's see who was passed over from the 2004 list:
Rod Beck: Easily the biggest surprise, given his 286 career saves and sudden passing at age 38 in 2007. Beck was a three-time All-Star and he ranks 24th on the all-time saves list. Mike Jackson clearly had the better career of the two out of the pen, but given the notoriety each enjoyed during his career, it's pretty stunning that Jackson, who never made an All-Star team, was chosen over him.
Mark McLemore: Played 19 seasons, which matches Galarraga, Larkin and McGriff for the most in the class. McLemore spent much of his mid-20s in the minors, but he was pretty much a regular from 1993-2001 and he certainly could have continued his career as a role player beyond 2004 had he wanted to. Hit .259/.349/.341 with 272 career steals.
Dave Burba: Burba finished 115-87, compared to 114-96 for Reynolds. His candidacy also should have gotten a huge boost by his 3-0 record and 2.14 ERA in 21 postseason innings.
John Vander Wal: Sadly, Vander Wal was 33 before anyone figured out he might be worth trying as a regular. One of the game's best pinch-hitters during the first half of his career, he got 300 at-bats in his career just three times, yet he posted OPSs of 972, 806 and 818 in those seasons, which came at ages 34, 35 and 37. He finished up at .261/.351/.441 in 2,751 at-bats.
Brent Mayne: While he was a reliable part-time catcher for 15 years, Mayne will always be best remembered for getting a victory in an extra-inning game against the Braves in 2000. He worked a scoreless 12th for the Rockies, and he became the first position player to pick up a win in 32 years when Colorado scored in the bottom of the frame.
Mike Fetters: Entertaining and usually effective, Fetters and his intimidating stare lasted 16 years and combined on a 3.86 ERA and 100 saves in 620 appearances.
Todd Van Poppel: One of the most hyped prospects of all-time, Van Poppel did manage to get 11 seasons in despite being known as a bust throughout his career. He had a couple of nice years out of the pen with the Cubs in 2000 and '01, but he finished up 40-52 with a 5.58 ERA.
Notables not qualifying for the ballot because they didn't play 10 seasons include Rey Ordonez, Darren Dreifort, Billy Koch and Doug Glanville.