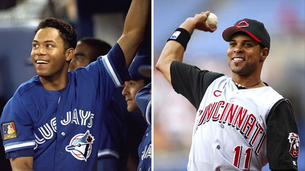 Roberto Alomar, Barry Larkin, Edgar Martinez and Fred McGriff highlight the list of 15 newcomers on the Hall of Fame ballot released on Friday.
Also on the ballot for the first, and likely last, time are Kevin Appier, Ellis Burks, Andres Galarraga, Pat Hentgen, Mike Jackson, Eric Karros, Ray Lankford, Shane Reynolds, David Segui, Robin Ventura and Todd Zeile.
Only the first four newcomers figure to receive the five percent of the vote needed to stay on the ballot for 2011. Perhaps one member of the group will even make it in, though it seems unlikely. Alomar and Larkin are definitely well above the Hall of Fame standards for middle infielders, but both have enough holes in their candidacy that it seems likely they'll have to wait for enshrinement.
That definitely bodes well for holdover candidates Andre Dawson and Bert Blyleven. With 75 percent needed for enshrinement, Dawson was named on 67 percent of the ballots last year and Blyleven on 62.7 percent.
The other returnees, with their 2009 share of the vote, are: Lee Smith (44.5), Jack Morris (44), Tim Raines (22.6), Mark McGwire (21.9), Alan Trammell (17.4), Dave Parker (15.0), Don Mattingly (11.9), Dale Murphy (11.5) and Harold Baines (5.9).
We'll have more on all of the new candidates over the next month. The results from the current ballot will be announced Jan. 6.