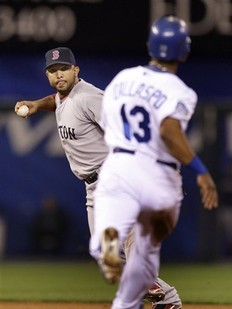 The Blue Jays are being aggressive early in their bid to hold on to fourth place in the AL East.
One day after re-signing backup John McDonald for $3 milion over two years, GM Alex Anthopoulos nabbed Alex Gonzalez to start at shortstop, guaranteeing him $2.75 million.
It's a very, very good start for my free agent predictions, but less so for the Jays, who have simply locked themselves into mediocrity.
Gonzalez is a legitimate starting shortstop with his still above average defense and 15-homer ability. He'd have been a decent enough stopgap for a contender, which is why the Red Sox were considering bringing him back. The Blue Jays, though, could have waited and seen whether a trade might be able to bring someone better. They have Roy Halladay and Lyle Overbay up for bids, and they can also afford to move a reliever or two from a group that includes Scott Downs, Jason Frasor, Brandon League, Jesse Carlson and Jeremy Accardo.
Instead of looking for upside, the Jays have just decided to go with defense and hope that it pays dividends with their pitching. Meanwhile, their OBP just got a whole lot worse, as Gonzalez might struggle to come within 100 points of Marco Scutaro's 379 mark from last year. Overbay's .372 is also expected to disappear from the lineup.
If the Jays go defense first at catcher as well, they could well contend for the AL's worst OBP next year and have one of the weakest offenses as a whole. Vernon Wells and Edwin Encarnacion should bounce back somewhat, but Adam Lind and Aaron Hill probably aren't going to combine for 71 homers again and Travis Snider is more likely to strike out 175 times than hit 30 homers as a 22-year-old.
The pitching could surprise, even without Halladay. They'll definitely get a quality arm or two back if they do move their ace, and Shaun Marcum should be in the rotation to start the year. It's just hard to see it being good enough to elevate the Jays past the Yankees, Red Sox or Rays. They may struggle to stay ahead of what should be an improved Orioles team.
Last winter, practically every team that moved early came to regret it, while the patient ones were rewarded with bargains later. Now, signing Gonzalez for $2.75 million and McDonald for $3 million doesn't compare to throwing $18.5 million at Edgar Renteria. Still, the Jays could well have done better had they waited.