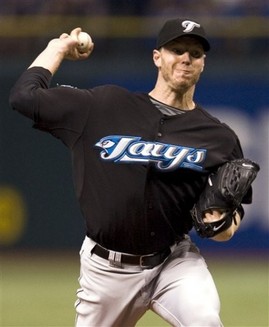 After all, it's only money.
The addition of Roy Halladay to Boston's already fine rotation would certainly provide a boost. Halladay is clearly one of the top five pitchers in baseball, and he's about as much of a Yankee killer as anyone in the league, having gone 18-6 with a 2.84 ERA and seven complete games in 35 starts and two relief appearances against the Bombers.
But the price tag is simply too big. The Jays will demand at least two top youngsters as part of a deal. In Boston's case, that will mean Clay Buchholz and perhaps Casey Kelly, their No. 1 prospect. It might be worth it if Halladay were underpaid, but the 32-year-old is just one year away from free agency, and he's set to earn $15.7 million next season. He'll almost surely demand a higher salary in 2011 and beyond as part of a contract extension.
Buchholz, on the other hand, will make less than $500,000 next season and is under control for five more years. He went 7-4 with a 4.21 ERA in 16 starts last season and impressed in his lone playoff start against the Angels. He has his quirks, for sure, but he also possesses a 92-95 mph fastball and an excellent changeup as part of a four-pitch arsenal. He's poised to win 15 games for the Red Sox in 2010. Halladay might well win 20, but he'd eat up a significant chunk of the payroll in the process and cost Boston one or two more top youngsters.
That's why it makes tons of sense to go after Matt Holliday instead. The only cost will be money. In fact, Boston would even pick up a draft pick in the process, since they'd lose a first-rounder for signing Holliday but gain two picks as a result of Jason Bay's departure. Holiday is due about $20 million per year, which is probably close to what Halladay will want as part of an extension.
The Red Sox can afford that price tag and stay the course with a rotation that will include Jon Lester, Josh Beckett, Daisuke Matsuzaka, Buchholz and Tim Wakefield. The time for reevaluation will be in a year, when Halladay, Beckett, Cliff Lee and Brandon Webb are all set to become free agents.