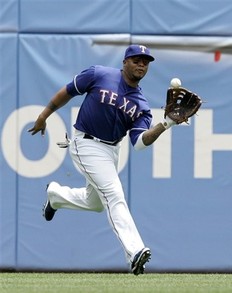 *White Sox sign outfielder Andruw Jones, who had been with the Rangers, on a one-year, $500,000 contract.
Surprisingly, the deal includes just $1 million in incentives.
Jones must have looked at what happened to guys like Jim Edmonds, Geoff Jenkins and Shannon Stewart last season and decided that taking an extremely modest deal was better than being forced out of the league.
I think this is a great move for the White Sox. Andruw didn't do much in the second half last season, but the Rangers also didn't give him a real chance to hit out of his slump. When he did play, he showed he can still hit the ball a long way. He finished at a respectable .214/.323/.459 with 17 homers and 43 RBI in 281 at-bats for the season.
If his body holds up — something that didn't happen last year — then Jones could very well be a more-than-adequate regular in right field for the White Sox. If not, then he's a part-time DH who costs the team next to nothing and who would be very easy to cut if someone better (Tyler Flowers?) comes along. While it's unlikely that he'll be an everyday guy initially, it's conceivable that he could hit 30 homers and still cost the White Sox just $1.5 million. That makes it a great pickup for GM Ken Williams.
*Padres claimed RHP Radhames Liz off waivers from the Orioles.
It shows how far Liz's stock has fallen that he was able to make it out of the AL before someone claimed him. The Orioles made a big mistake in never allowing Liz to settle into a short relief role. He's never mastered the breaking ball, but he throws in the mid-90s while working an inning or two at a time and he has a pretty good changeup. It's still not beyond the realm of possibility that he becomes a legitimate closer at some point.
That didn't stop a bunch of teams from passing on him, though. He's 6-8 with a 7.50 ERA and an 82/76 K/BB ratio in 110 1/3 innings as a major leaguer. Plus, he's going to be out of options next spring, which means he'll have to make a team or go right back on waivers again.
Kevin Towers is no longer around, but the Padres have a great track record of turning castoffs into quality major league relievers and Liz fits the profile. He'll be far from a lock to make the team next spring, but he's worth watching, particularly with incumbent closer Heath Bell a possibility to be shopped at the trade deadline.
*Red Sox acquire infielder Tug Hulett from the Royals for a player to be named or cash
Hulett was removed from the Royals' 40-man roster last week, so nothing of significance was surrendered here.
The 26-year-old Hulett hit .291/.384/.473 with Triple-A Omaha last season, but the Royals never gave him a shot with such luminaries as Willie Bloomquist, Luis Hernandez and Mitch Maier in need of playing time. He's had 67 at-bats as a major leaguer, coming in at .194/.270/.254. If he were a legitimate backup shortstop, Hulett would likely have a fine career as a utilityman. Unfortunately, he's not really playable there. He is adequate at second and third, plus he has some experience in the outfield corners. Also, he's a left-handed hitter, which should help his cause. The Red Sox probably won't carry him out of spring training, but he'll be a handy guy to have around as depth.