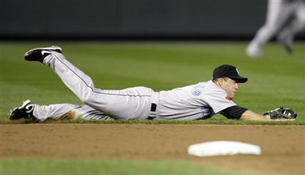 Alex Anthopoulos is a historically young general manager at 32, but his first significant move as the Jays' decision-maker was certainly rooted in traditional, old-school thinking.
On Wednesday, the Blue Jays agreed to terms with veteran infielder John McDonald on a two-year, $3 million deal. It was known that the move was coming, but indications were that it would be a one-year pact.
McDonald is, of course, a defense-first infielder. He's a career .238/.276/.317 hitter, which is awful even as far as utility infielders go. He somehow hit four homers last year, establishing a new career high. That gives him 13 total in 1,713 at-bats over the last 11 seasons, so he certainly better be a good glove man.
McDonald's defense, though, isn't what it used to be. He's certainly not as quick at 35 as he was at 25. He's still plenty reliable at shortstop, but his numbers in limited action the last two years aren't as good as teammate Marco Scutaro's. Say what you will about the unreliability defensive numbers, but it's just common sense that McDonald is on the decline; he was never particularly fast and he's probably getting a little slower with each passing year.
And that's why it was a silly idea to hand him a two-year deal. Multiyear contracts for bench players work out poorly the vast majority of the time, and there couldn't have been many teams knocking down McDonald's door. If he did leave, there's always an Omar Quintanilla-type out there to replace him.
With the deal, McDonald becomes, for the moment, the Jays' starting shortstop. Scutaro isn't expected back, and there is some chance that the Jays could go with McDonald as a starter rather than sign one of the mediocre veterans available. Ideally, they'd pick up a young, ready-to-play shortstop in a deal involving Roy Halladay or Lyle Overbay. However, there aren't that many available, particularly on the teams that are looking to add Halladay.