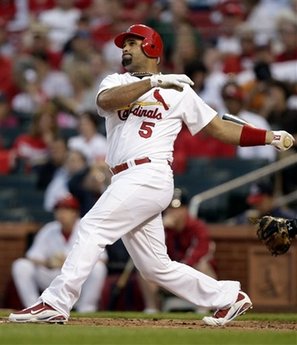 No drama this time, as Albert Pujols took home all 32 first-place votes to be named the National League's MVP by the Baseball Writers Association of America on Tuesday. Pujols is the first unanimous MVP selection in either league since Barry Bonds in 2002.
Hanley Ramirez finished runner-up while Ryan Howard, Prince Fielder, Troy Tulowitzki, Andre Either and even Derrek Lee received second-place votes, but it wasn't really all that close. This was Pujols' year.
Click here to see a full breakdown of the results (Where's Chase Utley, and who the heck gave Jeremy Affeldt a tenth-place vote?).
The repeat distinction is well-deserved for Pujols, who led the National
League in on-base percentage (.443), slugging
percentage (.658) and OPS (1.101), while also besting the National
League field in home runs (47) and runs scored (124). Pujols was a
monster in nearly every situation imaginable in 2009, but he
really cleaned up with the bases loaded, blasting five grand slams and
driving in 35 runs. The most incredible part? He did all that damage in
17 at-bats.
Sometimes we're so distracted by his absurd production with the bat
that we forget the little things he does on the diamond. Pujols didn't
win a Gold Glove this season, but he probably should have. He even led
his team with 16 stolen bases, tying a career-high.
We're not giving away an MVP of the decade or anything, but if we did,
Pujols would wear the crown. Pujols, now a three-time MVP winner, didn't even make his debut until 2001, but
he leads all major leaguers this decade with a .334 batting average,
366 home runs and 1,112 RBI. And to think he gave everyone else a year head-start.
As we close the book on yet another award season, a few voters went
rogue — some with compelling arguments, others, no
so much — but it can't be denied that the BBWAA got the major awards
right for a second straight year. With this year's Cy Young and MVP selections, we
have four of the most elite, exciting treasures of our game. It's a
great time to be a baseball fan.