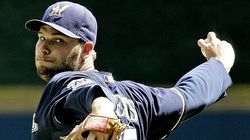 The New York Post is reporting that the Mets are "keeping an eye" on free agent pitcher Ben Sheets.
At first, I wasn't sure what level of interest that implied, but it turns out the Mets are, indeed considering Sheets as a viable option for 2010.
A major-league source confirmed that Sheets, 31, would be among a group of second-tier, relatively low-cost starting pitchers the Mets will consider this offseason while continuing their pursuit of top free-agent starter John Lackey.
The story says the Mets are also considering Joel Pineiro, Jason Marquis and Randy Wolf, all safer, healthier, but less-sexy options.
On the positive side of things, Sheets didn't give up a single run in 2009 (maybe that's what the Mets noticed). On the negative side, he wasn't able to pitch a single inning either after having surgery in February on a tendon in his forearm.
We all know about Ben Sheets (stats). When he's healthy, he's very good. But he is known for his struggles in that department. Since entering the league in 2001, he has thrown more than 200 innings four times, but not once since 2004.
Sheets, a four-time All-Star, looks like a good gamble on a short-term contract. But given the injury problems the Mets had in 2009, this seems like a matchup made for the doctor's waiting room. Then again, I can't blame the Mets too much for imagining what a nice addition Sheets would make to their disabled list next season. After all, an injured Sheets is still better than Oliver Perez.
Follow me on Twitter at @bharks. For more baseball news, go to NBCSports.com.