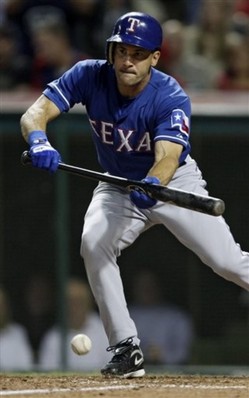 Satisfied with his role but not with the idea of spending another year in Texas, Omar Vizquel became the first major league free agent to sign with a different team Monday, joining the White Sox on a one-year, $1.375 million contract.
In Chicago, Vizquel will be counted on to play behind youngsters Alexei Ramirez and Gordon Beckham and could serve as a defensive replacement at third base.
The 42-year-old Vizquel hit .266/.316/.345 in 177 at-bats for Texas last season, making it his best offensive season since 2006. The Rangers probably would have asked him back even if he didn't hit at all. He was certainly a factor in helping rookie Elvis Andrus adjust, and despite never having played third base and rarely having played second, he appeared comfortable there last season.
2010 will be Vizquel's 22nd year as a major leaguer. In 2008, he broke Luis Aparicio's major league record for games played at shortstop. He hasn't added to his Hall of Fame resume since, but the native of Venezuela has strong support from the writers based on his 11 Gold Gloves and longevity.
That's the case even though those very same writers have given him MVP votes just once in his career, that coming when he finished 16th in the balloting in 1999. Aside from 1999, he's never hit .300 or posted an 800 OPS. He's appeared in just three All-Star Games, starting none of them. He's also hit a disappointing .250/.327/.316 in 228 postseason at-bats. His Indians teams never won a World Series in six postseason appearances.
So, does a player who has never been rated as one of the top 10 performers in his league really deserve induction into Cooperstown?