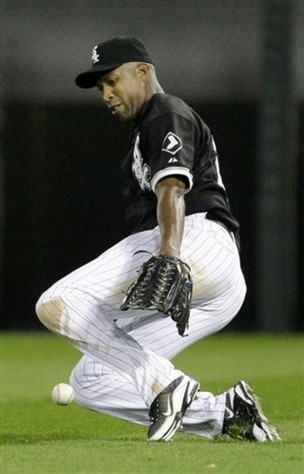 We still have so much to learn about defense, but one thing just about everybody can agree on now is that free agent Jermaine Dye isn't any good in right field at this stage of his career.
Given the nature of the concepts used to measure defense and the smaller sample sizes being dealt with, stats rarely show a great deal of consistency from year to year. Dye is one extremely notable exception:
UZR
2006: -22.5
2007: -21.6
2008: -19.4
2009: -20.0
According to UZR, Dye has cost his team almost exactly 20 runs per year for four seasons running. There's little doubt that he started his career as a fine defensive outfielder, but he had already declined considerably even before suffering a broken leg in the 2001 postseason. UZR says he was still acceptable until 2005, but that he's been such a liability since that he was actually a sub-replacement player in 2007 and 2009.
The soon-to-be 36-year-old Dye can likely still contribute with the bat. While he finished last season in a brutal slump that dropped his OPS to 793, he came in at .302/.375/.567 with 20 homers in the first half. He hit .292/.344/.541 with 34 homers in 2008.
He's also probably capable of making the switch to first base. He lacks an outfielder's range, but he still moves around OK. Standing 6-foot-5, he'd certainly present a nice target for infielders.
That Dye is clearly open to the idea now makes him a far more attractive free agent target than he was a week ago. It should also help his case that every other notable free agent first baseman hits left-handed. It'd make him a better fit with the Braves or Orioles, two teams relying a great deal on left-handed power. The Mets, Giants and Mariners are others that could consider him at first base.