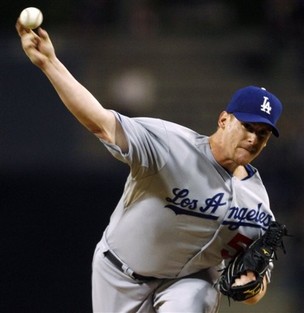 While Dodgers GM Ned Colletti was unwilling to mention anyone by name, he did attempt to defuse some of the Roy Halladay rumors in a conversation with the L.A. Times' Dylan Hernandez on Monday:
"We would like to improve our pitching, especially starting pitching. I don't believe we can subtract from it in order to improve it."
It's been assumed that Chad Billingsley was the bait the Dodgers were using in their pursuit of Halladay, but if that's not the case, a deal seems especially unlikely. If Billingsley isn't in play, then Clayton Kershaw certainly isn't, and the Dodgers don't have an elite pitching prospect with which to tempt the Jays.
A package involving outfielder Andrew Lambo, shortstop Dee Gordon and young right-handers James McDonald and Josh Lindblom would be impressive, but given their payroll concerns, a deal built around Billingsley would seem to make the most sense for the Dodgers.