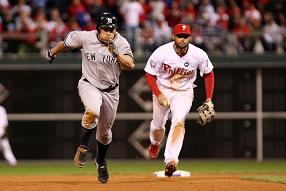 In a piece for the New York Times, Jonah Keri makes a rather interesting and detailed case for the Yankees to get younger next season.
While the dangers of complacency are numerous, he highlights the 2002
Anaheim Angels as the classic cautionary tale for what Yankees general
manager Brian Cashman faces in the coming months.



After winning the World Series in
2002, the Angels replaced just two players during the offseason, a
roster that was largely built on a house of cards due to small sample
sizes from the likes of Scott Spiezio, Adam Kennedy, Ben Weber, Russ
Ortiz and Jarrod Washburn. In 2003, the Angels lost 22 more games,
finishing below .500 and in third place in the American League West.



Obviously the Yankees are a much
different case, with an ability to absorb a few bad contracts, but Keri
sees danger in the Yankees standing pat going into 2010. He writes that
few players are more likely to see a regression than those in their
late-30s following a bounce-back season. Hideki Matsui, Johnny Damon
and Andy Pettitte all played key roles in New York's championship run
in 2009, however they are all 35 or older, with regression to the mean
far more likely than repeating their previous success.



Though he doesn't offer alternatives to the players mentioned above, Keri argues that the Yankees should
try to add younger players to avoid such regression. As of now, it looks like the Bombers won't heed his warning, as they hope to retain Damon while Pettitte is also expected to return. To Cashman's credit, Matsui, the biggest injury risk due to his surgically-repaired knees, is on the back burner.