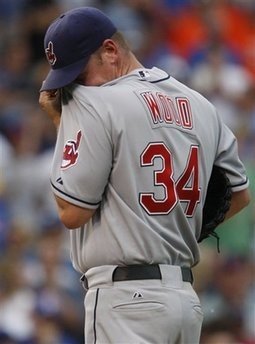 Ken Rosenthal and Jon Paul Morosi of FOXSports.com report that the Indians are unlikely to trade Kerry Wood this offseason.
According to the report, in order to trade him they would have to eat a
significant chunk of Wood's $10.5 million salary for 2010. With the
overabundance of closers available this winter, the demand doesn't
figure to be very high. Buster Olney of ESPN.com had similar thoughts two weeks ago.



Wood, 32, posted a 4.25 ERA, 1.38
WHIP and 20 saves in 26 chances in 2009, but was very solid after the
All-Star break, putting up a 2.96 ERA and 30/11 K/BB ratio in 24 1/3
innings.



According the report, the Indians
may hang onto him until they fall out of contention around June or July, so
Wood's salary won't be as much of an obstacle on a potential trade.
One thing to keep an eye
on is Wood's vesting option for 2011. It becomes guaranteed if he finishes 55 games next season. Wood finished 50 in 2009.