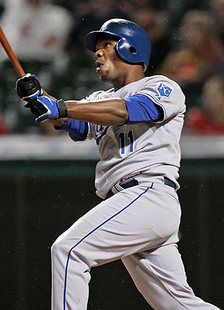 Adam Rubin of the Daily News writes that the Royals have identified the Mets as a potential trading partner for Jose Guillen.
According to the report, the Royals aim to acquire an inexpensive
outfielder in return for Guillen and are impressed with Angel Pagan.



Limited to just 81 games in 2009 due
to various injuries to his right leg including with a ligament tear in
his knee and hamstring discomfort, the 33-year-old Guillen batted just
.242/.314/.367 with nine home runs and 40 RBI. Meanwhile, the
28-year-old Pagan batted .306/.350/.487 with six home runs, 11 triples,
22 doubles, 32 RBI, 14 stolen bases and 54 runs scored in 343 at-bats
in 2009.



According to Rubin, the Royals are
willing to kick in some of Guillen's $12 million salary for 2009, but
the Mets have doubts whether he can be a full-time player anymore. And
with good reason. Guillen ranked as one of the worst defensive
outfielders in the majors last season, according to UZR
(Ultimate Zone Rating) and he completely collapsed against left-handed
pitching, batting just .181/.245/.309 with four home runs and nine RBI
in 94 at-bats.



Forget that Guillen is often viewed
as a malcontent, having played with nine different teams in 13 seasons.
If he was productive, nobody would care. However, aside from his 2003
campaign, Guillen has been merely average or worse throughout his
career. His 5.1% career walk rate almost touches Francoeur territory.
And imagine if the Mets signed Bengie Molina and his 4.0% career walk
rate? Five through nine of that lineup would be scary, and not in a good
way.
Dealing the inexpensive Pagan for Guillen would be the very
definition of half-witted, so I don't see much to this one. Mets fans should hope that he is pretty low
on the contingency plan if a contract for Matt Holliday or Jason Bay doesn't pan out.