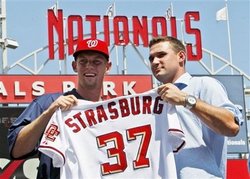 Go ahead and wipe that sweat from your brow, Nats fans. It looks like Stephen Strasburg is going to be just fine.



The number one selection of the 2009
First Year Player Draft made a precautionary visit to Dr. Lewis Yocum
in California on Friday after an MRI on his left knee showed some
inflammation. Strasburg twisted his left knee and heard a pop while shagging flyballs during a workout in the Arizona Fall League on Thursday.
Yocum recommended rest and therapy for the knee, however surgery will
not be necessary. He should be on track for spring training.



Crisis averted, I guess, however
with the injury we are robbed of yet another opportunity to see him
pitch on the national stage. The 21-year-old phenom was scheduled to
start for the Phoenix Desert Dogs in the AFL Championship Game against
Peoria on Saturday, televised by MLB Network. Strasburg was previously
scratched from a start in the AFL's "Rising Stars" game due to a stiff
neck. Guess we'll have to wait until spring training.



Strasburg finishes the AFL at 4-1 with a 4.26 ERA and a 23/7 K/BB in 19 innings.